Erich V. Briggs - Partner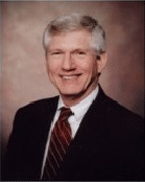 A founding partner of Butcher & Briggs, Mr. Briggs has provided campaign and development counsel to a variety of institutions throughout the United States over the past 36 years.  He has directed campaigns and counseled churches, youth organizations and social service agencies.
Prior to founding Butcher & Briggs, Erich Briggs was a consultant for a national and a regional fundraising firm. An Eagle Scout, he started his career as a Professional Scouter. However, he was soon recruited by the United Way, which offered Mr. Briggs the opportunity to manage and direct annual fundraising campaigns ranging in size from $500,000 to $35,000,000.  Over 23 years he served in six communities and was President and CEO in Butler, PA; Mt. Holly, NJ and Hampton, VA.
Erich Briggs is a member of the United Way Retirees Association and has volunteered his time as a mentor to new United Way Executives. He has mentored Chief Professional Officers for United Ways in Brockton and Haverhill, Massachusetts and in Juneau, Alaska. 
During his 36-year career, Mr. Briggs has raised over $155 million, managed strategic planning, as well as designed and implemented programs, which have positively affected non-profit agencies and the lifestyle of all of the communities he served.
Mr. Briggs is the current President of the Planned Giving Council of Cape Cod. He has twice served as Co-Chair of the Philanthropy Day on Cape Cod and is Secretary of the Board of the United Way of Greater Plymouth County.
Mr. Briggs received his Associate in Science Degree from Quincy Junior College and went on to graduate from Northeastern University, Boston, Massachusetts with a BS in Business. He then attained an MBA from Xavier University, Cincinnati, Ohio and also holds a certificate from the Executive Management Program at Harvard Business School.  He and his wife Marie, reside in Plymouth, MA.