James W. Butcher - Partner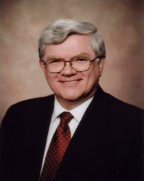 A founding partner of Butcher & Briggs, Mr. Butcher has over 36 years of professional experience in development and public relations. He has directed numerous multi-million dollar capital campaigns for hospitals, schools and colleges, health and social service agencies and other nonprofit organizations. He has conducted insurance-based life endowment campaigns, development audits, feasibility studies, and special projects. He also supervised and trained campaign directors while serving as a Senior Director of a national fundraising firm.
In the 1970's and early 80's Butcher served as an account executive with two advertising agencies and in management and supervisory positions in Public Relations for three fortune 500 firms.
Active in professional and civic organizations, Butcher was awarded The Clara Barton Honor Award for Meritorious Volunteer Leadership from the American Red Cross in 2006. He has served as Chairman of the Board of both the Hampshire and The Franklin County Chapters of the American Red Cross and as a board member of the Pioneer Valley Chapter of the American Red Cross.
A member of the Association of Fundraising Professionals, Western Mass. Chapter; he is a past board member of the Franklin First Federal Credit Union, Greenfield, Mass.; and a Past President of the Business and Professional Advertising Association of Youngstown, Ohio. He is also a former board member of the Pioneer Valley Symphony Society and the Mohawk Trail Concert Society, both of Franklin County, Mass.
A native of Youngstown, Ohio, Butcher is a graduate of Bowling Green State University with a Bachelor of Science in Journalism/Public Relations. He lives in Northampton, Mass. with his wife, Karen.
In preparation for his full retirement at the end of 2014, Jim Butcher has stepped back from the daily operation of Butcher & Briggs. He will remain available for a limited number of selected projects and for consultation.
Email: jb@bandbfundraising.com